SkinStore.com Announces the Addition of mybody Skin Care
mybody products, based on the science of Biomimicry, mimic and support how the body repairs, defends and heals itself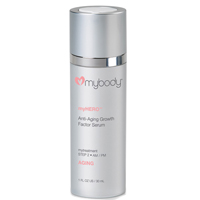 Gold River, CA (PRWEB) April 11, 2014
SkinStore.com, the nations leading e-commerce specialty retailer providing scientifically sound solutions for healing and maintaining healthy skin, has added mybody skin care to its assortment of premium products.
mybody is an innovative skin care line designed to support womens health and offer clinically safe, effective formulas. As the skin (the bodys largest organ) and body work together, the products are formulated to take advantage of that synergy. Using the science of Biomimicry, mybody scientists adapt biological designs, morphing them into improved technical functions that support how the body defends, heals and repairs itself.
Medical and hormonal conditions can adversely affect the skin, causing problematic issues such as acne, redness or dryness. mybody products were designed to help women manage such conditions. Hormonal changes can cause fine lines, wrinkles, lack of firmness and dull, uneven skin tone. mybo dy MyHero Anti-Aging Growth Factor Serum res tores resilience and luminosity, instantly helping to firm, tighten and brighten the skin.
Christina Bertolino, Senior Buying Manager at SkinStore.com, said, mybody products are created by medical experts and backed by science, to offer women safe, effective skin care options.
About SkinStore.com.

Physician-founded in 1997, SkinStore carries over 300 premium brands of skin care, cosmetics, hair care, beauty tools and fragrances from around the world. With over 9,000 products to choose from, SkinStore is a leading online resource for clinical and dermatologist-recommended skin care products. Customers receive free shipping on all U.S. orders over $ 49, and an esthetician-staffed call center is available Monday through Friday to answer questions and offer product recommendations. The company is headquartered in Gold River (Sacramento), California with operations in Sydney, Australia and an affiliate in Hangzhou, China. For more information visit SkinStore.com, SkincareStore.com.au, or SkinStorechina.com.
Contact Information

Denise McDonald, Content & Production Manager

SkinStore

http://www.skinstore.com

916-475-1427
###


Sponsor Link from LinkMedia on the topic of Empire Option -
Empire Option